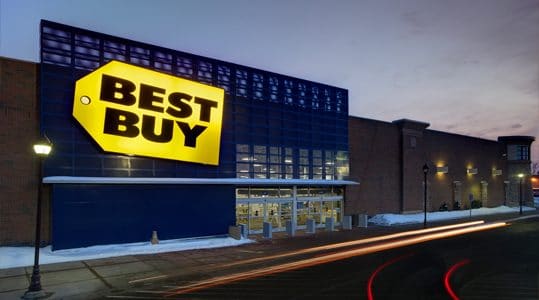 Open Box Offers – Some items that have been used as displays, that were returned by customers, or that were otherwise opened for other purposes can be purchased at lower prices.
Sign Up – Best Buy's loyalty program grants $5 back for every $250 worth of purchases. Members also get access to limited offers and discounts.
Know What You Want – By reading up on your options before going to the store, you can get a better idea of what you really need, and steer clear of enticing sales talk from clerks.
Energy Star – Energy Star marked items cost much less to operate and consume less energy for bigger savings in the long run.
Match Prices – Best Buy matches lower prices offered by competitors like Amazon if you're able to bring the ad or promo that states the offer.
College Student Promos – If you have a .edu email address, you can sign up for exclusive discounts and offers from Best Buy's website.
Friends and Family Pick-Up – If you're buying something for someone else but the item isn't available at a Best Buy near them, you can have the store deliver the item to the closest branch to your recipient for free pick up.
Make the Most of Coupons – Search online for promotional codes, discount coupons, and other offers you can use to slash off prices at Best Buy.
Visit CowBoom – Here you can find new, preowned, and refurbished items that are deeply discounted. Some of the items offered aren't even used – broken packaging simply forces the store to advertise them as used.
For Bigger Purchases – If you're buying big ticket items, feel free to negotiate clerks to give you a free item to go with it. They're more likely to agree to this than give a discount.
Schedule Your Shopping – Clerks have a sales quota to reach every month, and if they're in need of a few more sales, they'll be more willing to negotiate prices with you.
Skip the Accessories– If you're buying electronics, choose to buy the accessories like cables, cases, and other extras on eBay or Amazon where they're sold much cheaper.
Avoid Extended Warranty Offers – Manufacturer warranty is often more than enough to keep your product in good shape, as extended warranty is just another way to overspend.
Keep an Eye Out for Sale Days – Although there might be more people to wrestle with at the stores, big sale days can get you much bigger savings on a great selection of items.