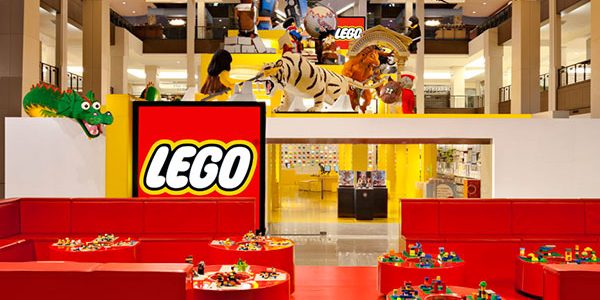 Major Department Stores – Both Walmart and Target have great deals on Legos, both online as well as in their brick and mortar stores. Be sure to check them out every November around Black Friday for steep discounts.
Lego Stores and Lego.com – The biggest selection and the best prices on Lego toys are going to come straight from the Lego stores and the Lego website themselves. Be sure to sign up for the VIP Reward Program to word extra points that can turn into free merchandise.
Toys "R" Us – The world's most famous toy retailer, it's not at all uncommon to find Buy One, Get One 50% Off throughout the year. The prices will be significantly higher here when not on sale, however, though the selection will usually be top notch.
Unexpected Surprises – Book stores, grocery stores, and even discount stores sometimes have amazing deals on Lego toys. Check the places you wouldn't expect to find Legos and you'll usually save big.
Used Legos – Lego toys are pretty much indestructible. If you want to purchase bulk quantities of Legos (likely without their boxes and not in a kit) turn to secondhand Lego collections. Parents are always looking to unload huge quantities of Lego toys kids are playing with anymore.
Be Smart Online – If bring bulk quantities of previously used Legos, never pay any more than seven dollars a pound with shipping. You should be able to get them for five dollars a pound ship on most sites, especially on eBay and Craigslist.
Sanitize Used Legos – If you purchase used Legos make sure that you sanitize them right away. Children inevitably put these toys in their mouths and you want to be sure they are perfectly clean. Soap and water works best, but you may also want to run them through the washing machine after putting them in a mesh container.
Stay Away From Amazon – Amazon usually offers amazing deals on EVERYTHING, but Lego toys are almost always significantly higher pricewise here than anywhere else. Stay away unless there's a great deal or special promotion to take advantage of.
Don't Purchase Box Sets Only – If you're primary objective is to pick up a lot of Legos at a price that won't break the bank, forget about purchasing full sets and instead go with pieces that can be combined into most anything.
Lego Books Are Great – If buying Lego pieces in bulk or refusing to buy Lego collections have your kids nervous about what and how to build with these toys, pick up a couple of Lego books and give them to the children. They'll be able to follow the plans to build amazing things with these guides.
Contain the Chaos – Invest in a "block box" and you will be able to better contain the chaos that is loose Lego pieces.
Play on the Table – You might also want to get a Lego table that you can use to act as the foundation for all of the Lego creations you build or your children create. It makes cleanup and Lego block management a lot easier, that's for sure.